Marketing With Print
Kathy's Klip Joint is a haircutting establishment located in a busy downtown area. Parking is a problem and regulars complain about having to feed the meters when they come into town for their appointment. To stop the whining, Kathy collected quarters in a jar to subsidize the parking fees. Some customers even contributed, but the parking problem was still a pain.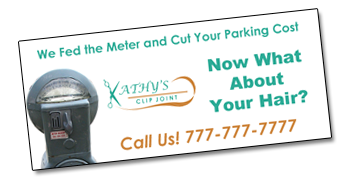 Until Kathy decided to turn it into an opportunity. She printed some inexpensive color flyers with a simple message and headed out the door with the jar of quarters. She covered a four block area around her shop, checking the meter wherever a car was parked, adding a quarter when the meter was low and leaving a flyer under the windshield wipers. The message on the flyer, "We fed the meter and cut your parking costs. Now, what about your hair?"
The scheme worked. In fact, she had one call for an appointment before she returned to the shop.
Print has four specific advantages over other marketing media:
Print is Tangible – You can't hold a tv commercial or a website banner ad. There is a tactile advantage to print. What you hold in your hand will get noticed and read.
Print is Valuable – Time after time, marketing studies show that consumers perceive print to be valuable. In fact, preference studies show that print media advertising has a significant trust advantage over online alternatives.
Print is Portable – It's an easy takeaway. The advantage of portability is especially important for point-of-purchase information, at tradeshows and events, and for any marketing effort where it's important to convey the details in a format that people can (and will) take along with them.
Print Sticks Around – Durability goes along with portability. Think about it. Digital marketing is as durable as the electrons bouncing off your computer screen, while print lasts awhile. A brochure, booklet or rack card is likely to get shared and can be seen by several people before it's discarded.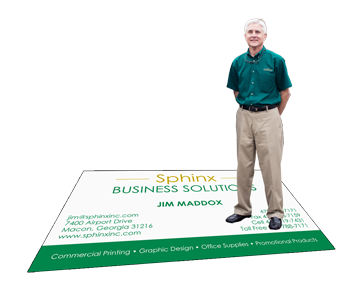 Augmented Reality Can Bring Print to Digital Life
Print has another distinctive and important advantage for today's marketers. Sure, print is a traditional communications channel, but it's easily integrated with digital marketing efforts. URLs can be included to direct readers to a website for more information or to respond, QR codes enable easy mobile access online. Finally, Augmented Reality A/R can add some unique and surprising digital functionality to conventional print. (3d business card photo).
What are the possibilities?
There's really no way to list all of the possibilities for print marketing on one web page. There are useful print applications for product marketing, event marketing, services, point-of-purchase, informational reports, and the list goes on. Here are just a few of the most popular items:
Brochures
Sell Sheets
Flyers
Rack Cards
Booklets
Last, but certainly not least, direct mail is probably the most important form of print marketing. Click the link to learn lots more about this valuable marketing strategy and how Sphinx Business Solutions can help.
Want to learn more about the possibilities of print?