EDDM and Direct Mail for Business to Consumer (B2C) Marketing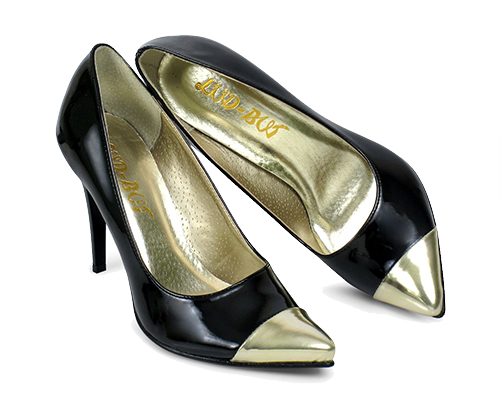 Direct Mail Sells Shoes (and Flooring)
DSW does a phenomenal job of communicating with their "shoe lover" customers. According to their 2014 annual report, almost 90% of their sales are generated from their famed DSW Rewards loyalty program. Direct mail is a key communications tool to reach the 22 million members of the program and DSW "spreads the love" with a variety of messages and incentives to their best customers, including the occasional hand written note from a store manager. With total sales in excess of $2.3 billion, it's safe to say that direct mail sells some shoes.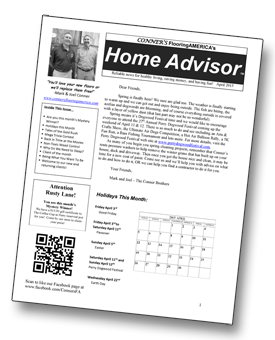 Closer to home, Mark Conner of Conner's FlooringAmerica uses a print newsletter called the Home Advisor to stay top of mind with his customers. The monthly mailer contains interesting stories, a contest, and congratulatory mentions for favorite clients. It's more informational than advertising, but Conner does include a specials flyer as an insert. "We get a lot of positive comments from customers who look forward to the newsletter each month. They might not do a home remodeling project every year, but there's a good chance that they'll come to us for flooring when they do."
Small business owners like Conner may not be able to duplicate the scope of DSW's efforts, but direct mail to consumers is a time tested method of driving business. Yes, direct mail costs more than Facebook, but there are some distinct advantages:
Demonstrated ROI to "house lists" – loyal customers appreciate (and respond to) direct mail offerings
Easy geographic and demographic targeting – more information below.
Excellent for product and service promotions – coupons make for easy measurement.
Durable and shareable – Consumers keep and share newsletters, postcards, and flyers from favorite local businesses.
Let's explore a couple of ways your organization can use B2C direct mail.

EDDM
Looking for a cost effective way to reach out to local markets? The US Postal Service make it easy with Every Door Direct Mail (EDDM), a simplified way to reach every house (and business) in a neighborhood.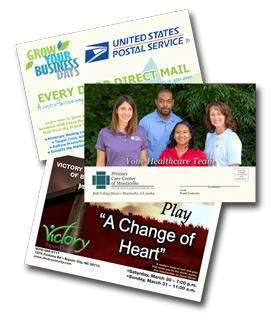 EDDM allows your business or organization to send large mailers for small dollars. It's a special service that "bends the rules" to allow businesses, churches, and other organizations to mail oversized postcards or other mailpieces to every address in a postal service route. The postage cost is low, as little as $.175 cents for local area mailings, and the USPS offers some flexible size provisions that allow mailers to send oversized cards, large folded mailers, and even booklets at reduced postal rates.
For Business to Consumer (B2C) marketers, Every Door Direct Mail is a perfect solution. Service businesses, restaurants, and local retailers can use EDDM to target specific neighborhoods with special offers. With EDDM, businesses can:
Target a geographical area without an address list.
Build traffic and find new customers or members.
Increase revenue with local specials.
Conduct direct mail campaigns at low unit costs and high ROI.
Sphinx Business Solutions has developed an easy system to help your company get started with EDDM. Click the link for details and pricing.
Targeted B2C Mailings
While EDDM lets your business saturate a geographical area, sometimes a more targeted approach makes better sense. The good news is that there's a list for almost any market segment you can imagine. Want to reach new home buyers? June brides? Fishermen? There's a list for that.
Highly targeted direct mail can be very effective, but there are some important considerations:
Is the message relevant? It's important to tailor the message for the specific audience you're addressing. Do you know what they want to know?
Do you have an appealing offer? Every direct mail piece must have a call to action and an incentive. Is your offer strong enough to provoke action?
How do you reinforce the message? Combine direct mail with other marketing tactics to compound the impact. Are you reaching the same audience by email, online, or with other advertising?
Should you consider sequenced mailings? Multiple mailings to a smaller target audience are frequently more effective than a single "bulk mailing." The best marketers implement a consistent stream of mailings, reinforced with messages on other channels.
Savvy marketers integrate several marketing channels to make multiple impressions on their target audience. They also include links, Personalized URLs, and incentives to guide recipients to landing pages that provide more information and enable them to collect data from the respondents.
Sphinx Business Solutions has years of experience with B2C mailings and EDDM. Let's talk before you start your next campaign. We'll help you identify goals, select a targeted list, and design compelling messages that will produce a response from your audience.
Care to read more about direct mail?
Why Direct Mail should be a Part of your Marketing Program
Direct Mail for Business-to-Business (B2B) Marketing