Direct Mail for Business to Business (B2B) Marketing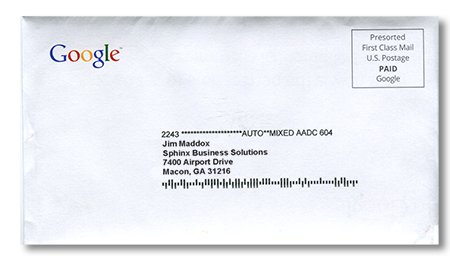 Google Uses Direct Mail?
We were admittedly a bit surprised when a small envelope came in the mail from Google. The company has dominant search engine market share and literally billions of users access Google services each year. Why would the internet behemoth bother with direct mail? The simple answer: it works.
It's ironic, but Google uses direct mail to promote it's highly successful Adwords service to small businesses. If you're in business, chances are that you've also received one or more mailings from Google with a nice letter and a coupon worth $50 in free Adwords listings.
There is no shortage of case study material that can provide you with examples of creative B2B direct mail campaigns that have worked to generate leads, sell products, and increase business. In terms of reach, targeting, and ROI, there really is no substitute for "old fashioned" direct mail. Why?
A few Pertinent Facts:
Direct Mail facilitates targeted messaging – Targeted lists are available for literally any industry segment you can imagine. Want to reach veterinarians, beauty shops, association executives? There's a list for that.
Direct Mail can reach audiences that are difficult to contact – Ask any salesperson about calling on doctors. Guess what? You can reach them with direct mail.
Direct Mail increases customer loyalty - Customers want to know the latest industry trends and appreciate regular updates from valued vendors. Coupons and offers still work to produce an immediate response.
Direct Mail is personal and valued – Marketing studies continue to confirm that customers and prospects assign real value to the direct mail they receive from the companies they like. They realize that you're making an investment to stay in touch.
Direct Mail has a longer shelf-life – Compared with any other marketing tactic, direct mail tends to stick around longer. Banner ads and emails vanish from the screen, but direct mail is likely to be shared with others in the businesses you target.
Smart B2B marketers understand that direct mail is the key lead in for their integrated marketing efforts. URLs that lead to landing pages produce website traffic. QR codes enable an immediate mobile response. The best marketers coordinate their promotional and informational efforts across the marketing channels they select.
It's evident that B2B direct mail is effective, but we have to caution that it's probably not a "silver bullet" that can produce astounding results from a single effort. If you're considering a one-time mailing to the universe, save your money and don't waste the time. Coordinated campaigns that combine mail with other marketing efforts can work, but the best results are achieved through consistent efforts directed towards a carefully selected audience. Sphinx Business Solutions works with our clients to help them identify their target markets and design ongoing direct mail programs that generate leads and bring in new business over time.
Let's get in touch to talk about possibilities for your business or organization. If you'd like to keep reading, here's more information about:
Why Direct Mail should be a Part of your Marketing Program
EDDM and Direct Mail for Business to Consumer (B2C) Marketing