About Online Proofing and Ordering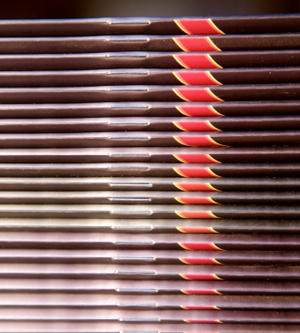 We love to hear from you by phone, but when time is limited it's sometimes just easier to operate online. Sphinx Business Solutions is very pleased to offer our customers two services that streamline the process of placing orders and receiving proofs.
Document Library -- Your Online Product Catalog
Our Document Library system is designed to help you simplify the process for frequently ordered items. If you regularly order letterhead, envelopes or even standard marketing collateral or ad specialties, Sphinx can set up a customer portal just for you. You can view past projects, select new quantities, and place orders online any time; day or night. There is no easier way to reorder a project.
If you regularly order business cards for several people in your organization, we can install templates that will allow you to enter and save contact information and create cards for new team members. Anything and everything you need can be cataloged in a central location allowing access to anyone in your company who needs to place orders. We can even provide an order approval process if needed.
Would you like to see how our system works? Easy enough! Here's a downloadable Using Web-to-Print Portals .pdf file that will show you how. Logon to the Sphinx Demo site on the Customer Portal page.
This service does work best for frequently ordered products. If you only order on an occasional basis or have new art to submit, you can still place an new order online by clicking the link at the bottom of our home page or under the Customer Center menu heading.
Online Proofing
At Sphinx Business Solutions, we want your project to turn out just right. That's why proofs are so critical. As our customer, you have the final say about the art that will be used to produce your product. That's why it's important to have a clear proof policy and an efficient method for you to approve the proof for your product.
Emails are great, but sometimes they get jammed up by finicky servers that don't allow file attachments. Sphinx's proofing system allows our customers to receive and view proofs through their online customer portal. We will send you an email notification when your proof is ready, but without a file attachment that might cause problems. You'll receive a link to view your proof and you can approve it online.
For occasional customers, a similar process is used. We'll ask for your email address when you order and email a link to a downloadable proof. You can approve your proof or communicate changes by responding to the email.
Need more info?
Please fill out the contact form below or give us a call to learn more about Online Proofing and Ordering.
Please let us know if you have specific questions about online proofing or ordering.