The Art of the Poster
June 22, 2016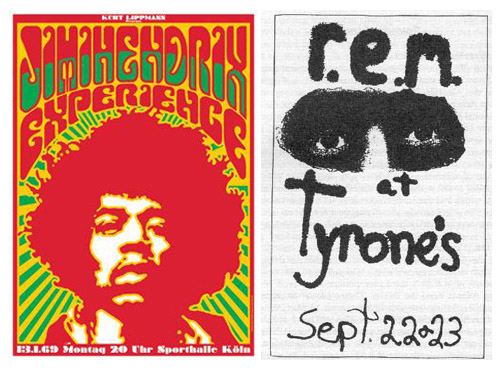 Even if you aren't a child of the 60's, the Hendrix poster probably looks familiar. The concert poster helped to define the psychedelic era, and it's almost as recognizable as Warhol's Campbell's soup can. In the 60's and early 70's, the psychedelic posters for Hendrix and the Grateful Dead were a new art form. Aging hippies who kept the originals now have treasure – these old concert posters bring a high price today.
If you were around Athens, GA a decade later, you'll remember a less elaborate art form. The Athens music scene was just beginning to take off and the bands reproduced their posters on copy machines at the local copy shop, or on departmental copiers if they could get away with it. Michael Stipe was an art student at UGA and perfected the low end look for REM's posters – jagged scribbles, drummer Bill Berry's eyebrowed glare, and an odd assortment of purposefully grainy photos. The posters were generally printed on white or pastel sheets of 8.5 x 11 bond, and they were plastered all over the town.
For the bands and the artists who produced the posters, the artistic element was of obvious importance. It was the design that got the attention, but the underlying purpose for the art was clear. Posters were and continue to be a fantastic way to promote an upcoming event.
35 years ago, print was really the only practical media to use for event promotion. There are other alternatives today, but print was continues as the communications channel that works best for event promotion. Why? More than any other option, print sticks around. Unlike an email notification or Facebook invitation, posters stay up until someone takes them down. If you get permission first, that can be a good, long while.
Eye Candy with a Message
Posters work because they combine art that gets attention with the practical message of who, where, when, and how much. Here are a few tips to create an appealing poster that will attract an audience to your next event:
Lots of color – Color makes the art and highlights the message. Today's digital printing technology makes color very affordable, even for short runs.

Typography – Big black type provides a bold, retro look that's instantly noticed, but you can also choose interesting type to match the flavor of the event.

Readability - Your design should be clear from 15 feet away.

Focus - use shapes, an interesting photo, or large type and background colors to focus the eye on the message.

Layers and Perspective – the use of layers can add a sense of depth to your poster. Make sure that the art adds to the message and doesn't distract from it.
If you'd like to get some inspiration for your next poster, Canva has some great examples of unique combinations of art and message in their article 25 Ways to Design an Awesome Poster. Take a look. You'll be impressed.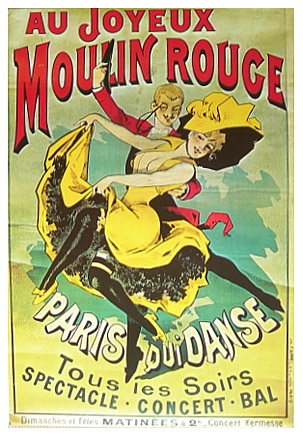 Posters are still Amazingly Affordable
Posters are  an extremely cost-effective way to get the message out. In the late 70s, REM could produce 200 black and white posters for $20. With today's digital print technology, the same posters would cost half that amount. Hendrix' large color concert posters were more expensive, but today you can produce full color, 12 x 18 posters on a nice cover stock for just a little more than the cost of a postage stamp.
If you're planning an event and want to get the message out, don't forget the posters. And make sure to keep a few for your art collection. In 1989, one of Toulouse Lautrec's Moulin Rouge posters sold for $220,000.  How much will your masterpiece be worth in a few years?
Win Some Free Tickets to A Great Event – Contest runs through June 30!
Theatre Macon is sponsoring the first Middle Georgia Summer Theatre Festival this summer with three excellent shows that you'll want to attend. Sphinx Business Solutions will be producing much of the print for the event, and we're also helping to promote with a free ticket giveaway!
Click the banner ad below to learn more about Print for Events and to register for free tickets to the Summer Theatre Festival.