Business Development Consulting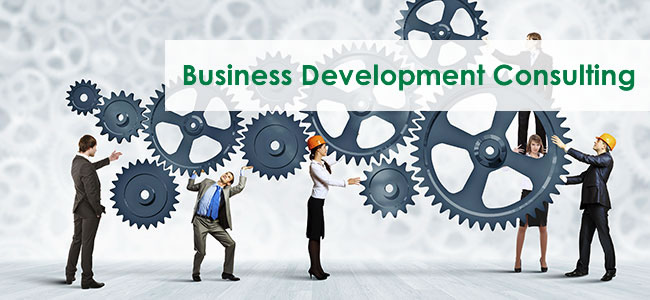 Change Can Be Tough
Small changes can have a large impact on business revenues, profitability, and growth. Any business owner will tell you that the devil is in the details. You may know that changes are needed, but identifying the particulars and putting them into action is a daunting challenge.
The Business Development process includes analysis, planning, implementation, and monitoring of changes that can greatly impact the growth and development of a business. The scope is broad and includes sales, customer relationships, target markets, location, marketing, collaboration, vendors, partners, goals, products & services, promotions, and events.
How the Process Works
In any business, there are identifiable areas which hold hidden opportunities. Identifying the opportunities and implementing changes can dramatically impact medium and long-term growth. Our survey process will walk you through a thorough examination of the following areas of your business:
Sales Strategy and Effectiveness
Sales Management Process
Customer Relationship Opportunities and Systems
Marketing Strategy and Measures
Collaboration Opportunities
Vendor/Purchasing Methodology
Goal Setting and Attainment
Product & Service Opportunities
Promotions & Events Potentials
Pathways for Expansion (Build, Buy, or Partner)
Planning for Medium-term and Long-term Growth
Multi Location / Co-Op or Franchising Possibilities
Organic Growth (Existing Market) Potential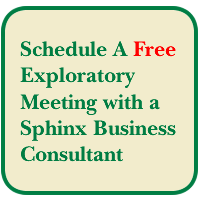 At the end of the initial process, you'll have a clear picture of specific areas of your business that may provide growth opportunities and changes that are needed to maximize efficiency, control cost, and prepare the way for growth in revenue and/or profitability. We'll present this in a concise, written report and schedule time to discuss the next steps and ways that we can help you implement and measure the effect of the most important changes needed.
Initial costs are very affordable, even for small businesses. The first conversations are completely free and the preliminary survey can generally be conducted for $1700 or less. The sooner you start, the quicker you'll see results. Let's talk.
Learn more about about consulting services from Sphinx Business Solutions:
Operational Consulting Services